On December 2, 2020, Maryland Governor Larry Hogan announced that there has been a surge of COVID-19 hospitalizations. He said that "we are not near the peak yet," and also, "the worst part of this entire crisis is still ahead of us over the next month or two."
The following table highlights some relevant statistics.

Hogan also said, "We currently have 6,816 Marylanders in our state's hospitals…If and when we reach 8,000 hospitalizations statewide, all hospitals will be required to expand their staffed bed capacity by 10% within seven days."
A senior medical adviser to the governor, Dr. David Marcozzi, expressed concern that the next few months will be "challenging" due to the volume of travel that occurred around the Thanksgiving holiday.
While travel checkpoint numbers are generally lower for 2020 than for 2019, the following table shows that for certain days around the Thanksgiving holiday period, more than 1 million people per day traveled by air. This lends credence to the comments made by Dr. Marcozzi.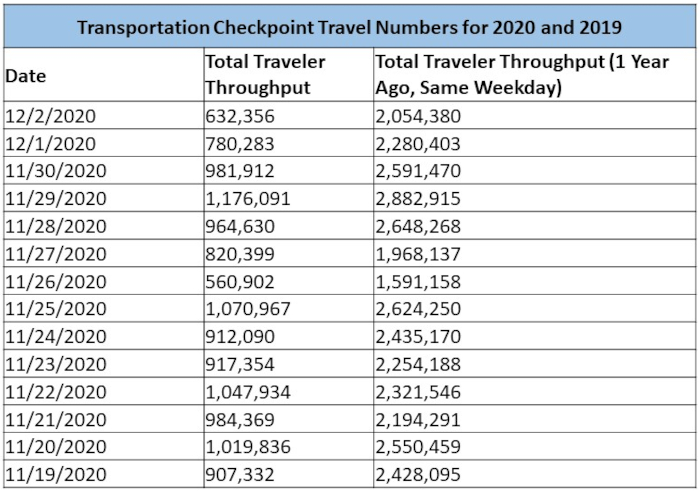 The important question is whether we continue to be as resilient now as we were before the crisis. Apparently, Governor Hogan thinks that we are reaching a critical upper limit. The Department of Homeland Security acknowledges, "Some incidents will surpass the capabilities of communities, so the Federal Government must remain capable of responding to natural disasters, physical and cyber attacks, weapons of mass destruction attacks, critical infrastructure disruptions, and search and rescue distress signals."
Following disasters, the Federal Government must be prepared to support local communities with long-term recovery assistance. The United States can effectively manage emergencies and mitigate the harm to American communities by thoroughly preparing local communities, rapidly responding during crises, and supporting recovery.
Governor Hogan announced several measures that are designed to affect his state's ability to be prepared and resilient. First, the governor announced the launching of MarylandMedNow to staff up hospitals, nursing homes, testing sites and vaccination clinics across the state. Second, Maryland is requesting that all colleges and universities immediately develop emergency policies and procedures to award academic credit to students who are willing to serve in healthcare during this pandemic. Next, colleges and universities are also encouraged to allow healthcare students who are in their final semester and have satisfied graduation requirements to be eligible for "early exit" in order to quickly enter the workforce. In addition, non-deployed school nurses, health services staff and other county employees are being asked to help staff the state's testing and vaccination sites. Last, hospitals and nursing homes are urged to begin using unlicensed individuals to perform certain less critical tasks so as to free up nursing staff.
As a Marylander, I commend Governor Hogan for taking these steps to develop local solutions and hope that he continues to be proactive in the future.