Whenever a cabinet secretary leaves their post, it starts the parlor games of figuring out who is next for that vaulted spot. I confess I am someone who has been a frequent player of such games, having opined on multiple occasions about who could be the next DHS Secretary, FEMA Administrator and other major Homeland Security positions. That's why when current White House Chief of Staff John Kelly left DHS, it was fairly easy for me and others to identify prospects who could replace him in the Trump cabinet.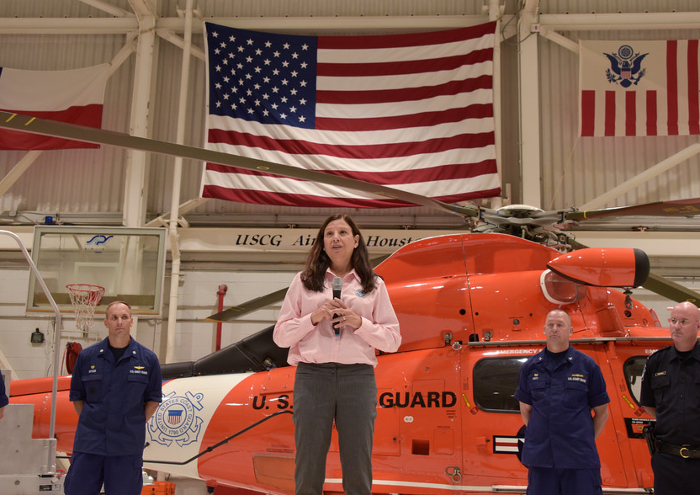 For those of us parlor players, the "short list" is composed of the usual suspects of current or former members of Congress, governors, USCG flag officers, and the people who served as Deputy Secretary. Given the current vacancy at the top spot at DHS, the Deputy Secretary automatically serves as "Acting" Secretary until the President nominates and the Senate confirms a replacement, which is what is happening today with Elaine Duke.
But her path to the "big chair" at DHS is unlike any of the Department's prior top leaders. Elaine Duke has never run for or held elective office. She's not a lawyer or former law enforcement officer, nor has she been a military flag officer. Unlike the other top DHS "S1s," as they're called within the Department, Elaine Duke is someone who has had a very accomplished and successful career as a federal employee. Along the way of her nearly three-decade federal career, she built a sterling reputation for making things happen; treating people fairly (and well); and was someone you could work with to get things done.
It's one of the reasons that when she was nominated as Under Secretary for Management during the Bush Administration, and for the Deputy Secretary post under the Trump Administration, the cheers from the Homeland Security community, both sides of Capitol Hill, many corners of the federal government and especially inside DHS were so loud and positive.
Elaine Duke was a known commodity – you could trust her to get things done, and unlike many in Washington, she was not a show horse. She was a workhorse. Also unlike many other leaders in Washington, Elaine Duke never sought the media mentions, spotlights or cameras. For her, it was the people around her who got things done who deserved the attention. That was where she wanted the focus to be.
And those are the exact same qualities she has shown the country in her nearly two months of service as DHS Secretary. She inherited the "big chair" in probably one of the most tumultuous ways possible. Her boss, Gen. Kelly, was going to the White House to become Chief of Staff to bring a measure of discipline, calm and stability to an environment that had none. And while the Washington parlor game started with possible names to succeed Kelly, Elaine Duke put her head down and dove into working one of the toughest jobs in the world.
Since taking over, she's: led the Department through three of country's largest natural disasters (i.e., Hurricanes Harvey, Irma and Maria), as well as fires in the west; endured the DACA/immigration issue turbulence; executed the ban on Kaspersky software from the U.S. government; and kept the Department doing it its regular 24-7 Herculean lift of keeping the homeland secure.
And while doing it, the Beltway chatter about who should be the next DHS Secretary has largely gone silent. In its place has been increasingly vocal praise and admiration for Duke for performing under operating conditions that would make most other people melt.
To those of us who were fortunate to work with her (as I did from 2003-2006), we aren't at all surprised. Elaine Duke has done what she has always done. She makes things happen!
I'm sure she's in a role that she never could have imagined, but the stars have aligned in such a manner that she's sitting in the "big chair" and is doing stellar job at it. And while someone in the Office of Presidential Personnel may still be looking at potential candidates to be the official successor of Gen. Kelly, Elaine Duke has shown everyone how it is to be done.
It's my hope that the President recognizes that fact and removes any semblance of "Acting" from her title and makes her the "official" and undisputed office holder. She's already proven she's the real secretary.