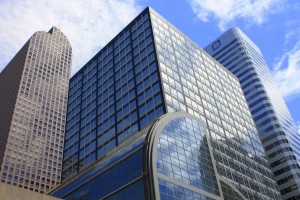 From the unconventional campaign and bold inaugural address, to the disruptive technologies and innovations that are changing the way we live our lives, the phrase, "It's not business as usual," is taking on a whole new meaning. Everyone is either increasingly excited or nervously anxious about what may happen next. But where some see "uncertainty," others see an "opportunity" to try new approaches to address tough and complex challenges.
That certainly exists in the homeland security landscape in terms of the private sector. While classic hazards and threats like acts of Mother Nature, industrial accidents, criminal actions and terrorism will always be around, evolving and even more complex risks are coming from cyber incursions, biological threats and increased infrastructure interdependencies that offer us even more difficult risks to manage and abate.
While government at all levels plays an essential role in preparing for and responding to events that occur in these areas, it is the private sector that bears the most risk, responsibility and impact. No other constituency owns, operates or creates more infrastructure than the private sector and that is why there is such an incredible opportunity for this community of entrepreneurs, innovators and business leaders to shape this new era. With new leadership taking over DHS and beginning its own assessment of how to best secure the homeland, here are some areas for renewed private sector leadership and action in the homeland security arena.
Propose New Solutions through Public-Private Partnerships
While it won't solve every homeland security problem that DHS and its partners confront, the partnership between public and private sectors can offer more creative and dynamic approaches to any number of operations. Risk-based supply chain management strategies; expedited and more efficient border security efforts; enhanced and more resilient infrastructure designs, operations and investments; improved passenger, luggage, cargo screening processes; data-driven risk modeling/assessments—these areas and more can be enhanced by bringing outside and operational insights to the table. With the new administration's zeal to reduce regulatory burdens, there is a real opportunity to bring down the barriers that prevent such collaborations from happening.
Conversations and information sharing between vested parties should not require protections under the Endangered Species Act, but given the hoops, chutes and ladders that one often has to go through to communicate between the public and private sectors, it is time to create an environment where both parties can work together to secure the homeland while safeguarding the operations, commerce and actions that make up our economy and way of life. Public-private partnerships are taking various forms around the country. Infrastructure investment, design, construction and operation, information sharing and collaborative activities, and emergency preparedness, planning and response all have taken different shapes to reflect the missions, operations and communities they serve. Creating an environment that welcomes them and allows them to flourish will only enhance DHS' operations and mission performance.
Revise the Stafford Act
A lot has changed since the Stafford Act was created in 1988, but one thing is certain – the private sector plays a bigger role in the life and operation of our country than ever before. While a number of revisions and enhancements have been made to it, after a while, the legislative patchwork and add-ons can lose their focus and effectiveness. Today, FEMA is in better shape than ever with more resources, capabilities and capacities to deal with the range of "bad days" our country experiences. Revising the Stafford Act to allow for greater integration of the private sector as a planning and preparedness partner will only increase our national resilience and economic security.
Bring Insurers to the Table
No one knows more about risk than the insurance industry. It has been their livelihood for centuries and some of those companies have the legacy data and insight to prove it. With that much knowledge at hand, bringing them to the DHS leadership table to better inform and empower our risk management strategies and approaches will give the Department insights it has never had before.
Better Use of the SAFETY Act
If a company or organization has a technology, innovation or service that can help mitigate a terrorist attack, it should apply for SAFETY Act protection. Since its establishment in 2003, the SAFETY Act has protected more than 600 companies/organizations by limiting their liability in the event of a terrorist act. Organizations that take the extra step to better safeguard their clients and customers from acts of terrorism deserve not only public recognition but the legal safeguards and protections that the SAFETY Act provides. It offers protection against legal jeopardy and being torn apart by overzealous parties seeking a big payday. It also forces everyone else to step up their own games and performance to apply best practices and know-how to make an attack harder to execute. The SAFETY Act Office has done a great job in making sure the Act and its protections evolve with the ranges and forms of terrorist threats. It's up to the private sector to keep engaging them and the Department, as well as others in the public safety community, about the types of threats they see that could adversely impact them and other critical infrastructures.
Restore the Private Sector Office
When it was created by Congress in 2002, there was a lot of criticism about what parts of the federal government would or would not make up the Department of Homeland Security (DHS). With 22 different components coming together into a new structure, those arguments were completely understandable, but for all of those criticisms, there is one thing that the Congress got absolutely right – it created a voice for the private sector. Found in Section 102 under the duties of the DHS Secretary, the legislation calls for the establishment of a Special Assistant to advise and build relationships for the Secretary with "the private sector to enhance the primary mission of the Department to protect the American homeland."
From travel and tourism, supply chain security, emergency management, infrastructure protection, immigration processes, customs enforcement and more, every business from the Fortune 10 to the mom and pop small enterprise intersects with the DHS mission and its components. For as expansive as the federal government may be, few departments have that type of bottom line impact. Giving them a voice in the Department's mission was the right thing to do.
The roles and responsibilities called for by the Homeland Security Act 2002 took the formation of the Private Sector Office (PSO), and I was fortunate to be a part of it for three very eventful years (2003-2006). Operating as a two-way window, the PSO not only gave voice to the concerns and issues the private sector had on any number of matters, it also allowed the Department to reach out and access them to build partnerships, assess policy impacts, share information and engage one another during times of emergency, as well as daily operations.
For almost a decade, the PSO was the "little office that could," giving voice and informed perspective on many things. Unfortunately, over the past few years, the PSO has gone from being a onetime effective force to essentially a forgotten instrument. That needs to change.
Homeland security cannot work without the private sector and giving them the outlet and access to engage the Secretary and DHS leadership will be a value added agent to a mission that is already Herculean. By giving the Secretary and the Department assured access to them, DHS has the strongest of forces working with it to make it and the homeland mission even more successful.
Real homeland security is more than just the second largest federal cabinet department. It's a national mission that involves not just some of us but rather all of us. Reinforcing and empowering the relationship with the private sector allows for more insights, capabilities and capacities. That is a phenomenal strength that enables resilience to be embedded and to endure for years to come. Given our current threat and risk environment, we will need those abilities—not just for the bad days when disasters and emergencies strike but for the ever-evolving, complex challenges to come. And if we do those things, just imagine the possibilities of what we can do as nation.