The political rhetoric is white hot on the presidential campaign trail. It seems everyone has taken a side. In this series, we're looking at possible nominees for the next Homeland Security Secretary, be they in a Trump Administration (Part 1) or in a Clinton Administration (Part 2). In this final installment, we look at the few individuals who could be nominated for one of the toughest jobs in the world regardless of who becomes the next President.
Contenders for Either Clinton or Trump Administrations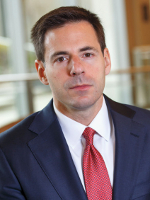 John Carlin, Assistant Attorney General for National Security – When I asked around for recommendations for this list, the most positive and enthusiastic response I received from both Democrats and Republicans was for John Carlin. More than a few times, I heard, "Fantastic guy!" Or "Boy would he be great with that job!" As the Assistant Attorney General for National Security, he and his staff of 400 are responsible for prosecuting some of the most complex national security cases our nation has encountered. From prosecuting the Boston Marathon bomber case, cyber cases, economic espionage and more, the former Chief of Staff of the FBI has a keen understanding of the tools investigators and prosecutors need to put the bad guys away for good while still protecting the civil rights and civil liberties that Americans cherish.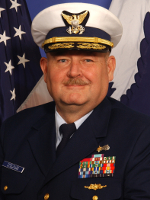 Thad Allen, Booz Allen executive, former USCG Commandant, former PFO Hurricanes Katrina and Rita, Gulf Oil Spill – If you could only make one phone call on America's worst day looking for someone to lead the response and recovery efforts, Thad Allen is arguably the one person most homeland security experts would call. His service in the U.S. Coast Guard is notable enough, but when you combine those leadership works with managing the response and recovery efforts for the Gulf Coast following Hurricanes Katrina and Rita in 2005, and then 5 years later following the BP Oil Spill along the Gulf Coast, it is no wonder that Thad Allen has as many fans as he does. The self-professed life-long learner now serves as a senior executive at Booz Allen Hamilton, where he leads their civilian market work with the Justice and Homeland Security Departments.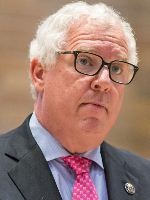 John Miller, NYPD Deputy Comm. for Intelligence & Counterterrorism and award-winning journalist – There are truly only a handful of Americans who can say that they personally met Osama Bin Laden, and John Miller is one of them. Several years before the 9/11 attacks, as a reporter with ABC News, Miller sat face-to-face with Bin Laden and interviewed him about his goals, his beliefs and what he wanted to do in the world. He knew then and knows even more today as the NYPD's lead for intelligence and counterterrorism the kind of threats the United States has to face. On several occasions, Miller has put down his reporter's notebook and picked up a law enforcement shield either with the LAPD, the FBI or now with NYPD and has proven to be one of the sharpest minds and action officers in protecting the public from all manners of harm and hazard.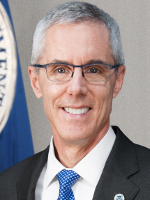 Peter Neffenger, Administrator, TSA; Vice Admiral, USCG – If there is any component at DHS that is on an upward glide path to better days in operations and morale, it is arguably the Transportation Security Administration (TSA). Much of that credit goes to Peter Neffenger, who stepped away as Vice Commandant in the U.S. Coast Guard to take the helm of the agency during one of its most challenging times. He's overhauled training and operations across the agency so people can do their job. Most impressively, when he told TSA employees he would have their backs, he actually meant it and followed through. When much of America expected TSA to have a complete operational meltdown this summer, the agency didn't and instead showed how well it could perform. When most leaders in the last year of an Administration are looking for their next jobs, Neffenger went to the Woodrow Wilson Center to detail the future his agency plans to execute. In doing so, he was recognized by former Congresswoman and current Wilson Center CEO Jane Harman as one of the few people disrupting government for the better.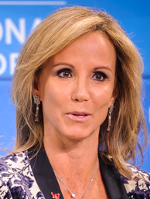 Fran Townsend, former White House Homeland Security Advisor – She may be best remembered for her service as President George W. Bush's Homeland Security Advisor, but her national security career actually started as a civilian intelligence analyst with the U.S. Coast Guard. Prior to that, she worked as a prosecutor in New York, and her work ethic and accomplishments caught the attention of the George H. W. Bush team, and later the Clinton Administration team, who put her in charge of multiple intelligence, law enforcement, and national security portfolios. Now serving as Executive Vice President at MacAndrews and Forbes Holdings in NYC, Townsend is frequently seen on CNN providing her analysis on national security issues.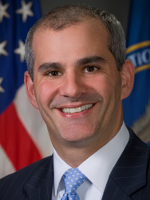 Michael Leiter, former Director of the National Counterterrorism Center (NCTC) – While he has a number of distinctions in his career, being one of the few people asked to stay over from the previous Bush Administration and serve in the Obama Administration is probably not one of Michael Leiter's proudest achievements. Being one of the people who worked with President Obama, his intelligence team and U.S. military forces to bring Osama Bin Laden to his ultimate justice is. As leader of the NCTC, it was his job, working with all of the intelligence agencies, to help ensure that mission critical information got to the right people across government and public safety agencies to stop bad things from occurring. It's a Herculean task, but as its first Director, Leiter laid the foundation for the necessary improvements intelligence and law enforcement personnel across the country needed to prevent a 9/11-type attack or other assault.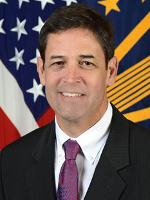 Tom Atkin, Acting Assistant Secretary of Defense for Homeland Defense and Global Security – While he may have "Acting" in front of his present title, there is nothing acting or temporary about Tom Atkin's performance. His many positions and accomplishments include: a distinguished 30-year USCG career; serving as Chief of Staff to Adm. Thad Allen during the Hurricane Katrina emergency, where he helped the New Orleans and surrounding Parishes get back on their feet; creating the USCG's Deployment Operations Group (DOG); and a tenure at the National Security Council. Atkin is known for building rapport among diverse interests to serve mission goals. Like his friend and mentor Thad Allen, Atkin is a lifelong learner who is not afraid to ask questions or start a conversation to get smarter on topics he needs to understand.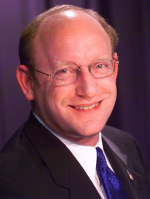 Matt Bettenhausen, AEG EVP for Security – I know this name may surprise folks, but let me ask this: How many people do you know who have helped protect and safeguard a state that is one of the largest and most vulnerable economies in the world (the State of California) from all manner of threats? How many people do you know who have served as a prosecutor in one of the toughest towns in America (Chicago)? How many people do you know who have helped safeguard the Olympics (London) and developed security procedures and information sharing networks for states, law enforcement and emergency management agencies, as well as sports and entertainment venues in the United States and around the world? I can think of only one—Matt Bettenhausen. Now working for one of the world's largest and most expansive enterprises, AEG Worldwide, Mr. Bettenhausen has spent plenty of time before the media. His work, however, has often been behind the scenes, where he's made things happen to safeguard the public in truly amazing ways.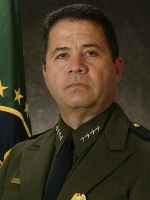 David Aguilar, former Chief, U.S. Border Patrol – Few people have led a larger law enforcement force (60,000+), but starting out as a Border Patrol Agent along the U.S. southwest border, even fewer have the hands-on perspective and experience that David Aguilar possesses. Whether as Chief of the Border Patrol, or as Acting Commissioner at DHS' Customs and Border Protection (CBP), Aguilar has played a huge role in safeguarding people, commerce, and operations in multiple ways. Lots of people have views on how border security should be performed, but Aguilar has a sharper and more experienced mindset that could better inform future border security operations, as well as needed immigration reform.
Who did we miss?  Who do you think should be the next DHS secretary? Check out the other potential nominees named in this series in Part 1 – the Trump Contenders and Part 2 – the Clinton Contenders.