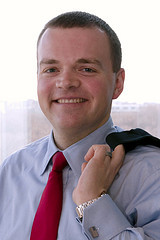 Bradley Saull recently announced that he was leaving the House Homeland Security Committee staff, where he has worked for the past two years, to join the Professional Services Council. He may be leaving the government, but thank goodness he is not leaving the homeland security mission, as our fellow Security Debrief contributor Rich Cooper likes to say.
Arrivals and departures on Capitol Hill occur with greater frequency than airplanes landing and departing America's 450 commercial airports, but for those of us who have worked with Bradley through the years, his departure creates a vacancy that will be difficult to fill. He is the consummate professional – thorough, conscientious, caring, curious, brilliant and possessing a work ethic that is the envy of every Type "A" personality on the Hill. He is a subject matter expert in so many subjects that he is the "go-to" person in most situations. And he has been a mentor to countless other staffers and interns, creating a legacy that will last long after he leaves the Hill.
I've had the pleasure of working with Bradley in some of his previous jobs, both at DHS and in the private sector. He is genuinely interested in making America a safer, more secure place. He cares about people. He knows how to forge consensus. He is always prepared and commands details of policy and legislative matters that few possess. His counsel is greatly appreciated, even by those who may have differing views.
At the Professional Services Council, he will serve as lead staffer for the Civilian Agencies Council, which focuses on issues facing DHS, the Department of Veterans Affairs, the Department of Health and Human Services, and other federal agencies. He's ideal for the new position – but he will be greatly missed on the Committee staff. It is my hope that our paths will continue to intersect on many occasions because the mission continues.