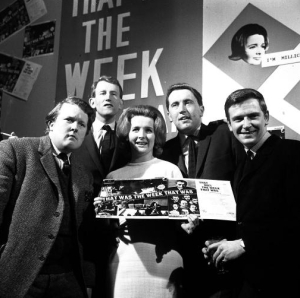 One of the earliest political satire shows on television was the early 1960s BBC program, "That Was The Week That Was," known by its colloquial name, "TW3." It helped create the career of a young news reader/interviewer named David Frost and helped develop the writing skills of Graham Chapman and John Cleese, who went on to found the Monty Python comedy troupe.
The program, which was broadcast on Saturday evenings, was a major hit at the time as it broke new ground in adapting political satire to the medium of television. The program concept was later picked up in the United States by NBC, and the US version of TW3 was broadcast for a couple of years. In my view, TW3 was the precursor of the early political satire segments of Saturday Night Live and created a rough template for the ultra-popular recent cable shows of Jon Stewart and Stephen Colbert.
The BBC show started with a song sung by the magnificent Millicent Martin, the first line of which was: "That was the week that was, It's over, let it go …"
The words of that song, and the premise of the TW3 program, come roaring back to me as I look back on the week that just ended. In a span of seven days:
– Congress went from the brink of allowing the Department of Homeland Security to shut down to passing its budget for the remainder of FY15 without any restrictions on President Obama's Executive Action on Immigration;
– The Israeli Prime Minister Benjamin Netanyahu spoke before Congress, boycotted by many Democrats and panned by the White House, slammed the Obama Administrations effort to reach a deal with Iran to prevent the development of nuclear weapons. Even as the White House denied it would make a "bad deal" with Iran, rumors flew that Iran's Supreme Leader Ali Khamenei was terminally ill and may have died, only to appear in video of a public event at his residence at the end of the week;
– Former Secretary of State Hilary Clinton asked the State Department to turn over e-mails she had kept on a private server at her residence in New York, raising serious cyber security questions in addition to the political ones that drove the Beltway pundit class into a froth, the most damaging of which was Ron Fournier's piece in National Journal, which suggested she should not run for president in 2016;
– Russian President Vladimir Putin condemned Boris Nemtsov's murder calling it a political killing, contradicting theories that Putin's political opponent was shot over a domestic or business dispute as Putin tried to convince skeptics that he would lead the investigation to find the killers;
– Current Russia resident and former NSA contractor Edward Snowden let it be known that he would like to return to the United States, where he will certainly face serious legal charges for leaking thousands of pages of classified materials. Snowden's lawyer says all he wants is a "fair and legal trial;"
– Despite record amounts of snowfall outside the federal courthouse in Boston – snow so deep that would have shut down most cities – the trial of Boston marathon bomber Dzhokhar Tsarnaev began with his attorney admitting in her opening statement that he did it. "It was him," defense attorney Judy Clarke told jurors, hoping the admission will keep the jury from imposing the death penalty against him;
– The terrorist group Boko Haram in Nigeria carried out a series of suicide bombings and reportedly declared its allegiance to the Islamic State. The Nigerian extremist group was blamed for four suicide bomb attacks over a span of four hours that police said killed at least 54 people and wounded 143 in the northeast city of Maiduguri, the capital of Borno state and birthplace of Boko Haram;
– The New York Times reported that Islamic State militant groups attacked the ancient archaeological site of Nimrud in northern Iraq and damaged or destroyed ancient structures and artifacts, as they had previously done in Syria, based upon their zero tolerance interpretation of Islamic law. This latest report followed the release last week of videotape of Islamic State militants destroying statues and artifacts in the Mosul Museum and at the Nergal Gate entryway to ancient Nineveh;
– US Ambassador to South Korea Mark Lippert was attacked by a knife-wielding assailant, causing a number of serious cuts to Ambassador Lippert's face. North Korean authorities called the attack a "knife shower of justice" and a "deserved punishment for warmonger United States;"
– Former DHS Secretary Michael Chertoff, speaking at a Chertoff Group Security Summit on Critical Infrastructure Protection in Houston, was quoted as saying: "The amazing expansion of the IoT [Internet of Things] is a growing threat to our Nation's critical infrastructure." We know this because Chertoff Group principal and former DHS Deputy Under Secretary for Cybersecurity Mark Weatherford tweeted it out to the world;
– Luxury hotel chain Mandarin Oriental joined the ranks of Home Depot and Target by saying that its point of sale credit card readers had been hit by cyber hackers. The Mandarin Oriental Hotel in Washington, DC, is less than two miles from the White House;
– A souvenir truck caught fire less than two blocks from the White House and caused a security lockdown just as President Barack Obama and his family were about to board a helicopter to Andrews Air Force Base. The souvenir truck, which belonged to a family from Virginia was completely destroyed by the fire, according to Reuters;
– President Obama gave one of the best speeches of his presidency standing at the foot of the Edmund Pettus Bridge in Selma, Alabama, marking the 50th anniversary of the police confrontation with civil rights marchers, now known as "Bloody Sunday." In doing so, he implicitly rebutted the charge made at a dinner at New York 21 Club by former NY Mayor Rudy Giuliani, that the President does not love America. Obama noted that great progress had been made in race relations in the United States following the events in Selma in 1965 but that the march started there was not yet completed;
– The US Justice Department released a report saying that there had been a significant "pattern of civil rights violations" by the Ferguson, Missouri Police Department and Municipal Court; however, the police officer who shot Michael Brown and was at the heart of this summer's public marches will not be indicted;
– One of the Obama administration's biggest critics in the Democratic Party, New Jersey Senator Robert Menendez, proclaimed his innocence amid news reports that he would be indicted on corruption charges. Menendez, who is the ranking member on the Senate Foreign Relations Committee, has openly criticized President Obama's stance on easing restrictions on Cuba and for the manner in which negotiations with the Iranians have been conducted over nuclear capability. This led Texas Senator Ted Cruz to suggest that the indictment of Menendez was "politically motivated;" and,
– Homeland Security Today Editor-in-Chief Anthony Kimery exposed a serious flaw in a recent GAO Report that the surge of unaccompanied alien children from Central America and Mexico last year was fueled by crime and economic uncertainty. Kimery noted that the GAO's assertion was completely at odds with an intelligence assessment published by the DEA's El Paso Intelligence Center (EPIC) last year: "The EPIC assessment stated the surge of UACs and families into Texas' Rio Grande Valley that began in 2012 had much more to do with human traffickers promoting false information that anyone who could get to the US would be allowed to stay."
WOW… and that was just a few of the things that happened last week in addition to a "snow event" that shut down the federal government and most of the Washington, DC, area for several days.
No wonder the Washington Post's Greg Miller ended the week with a thoughtful and sobering analysis, concluding that U.S. counterterrorism officials and experts have entered a period of "particular gloom," which reflects a pessimism that has descended on the CT community "over the past year amid a series of discouraging developments." Given the list of events of this past week, I'd normally be depressed too, but I know that not all is doom and gloom. How do I know this?
Spring training baseball games have started. The snow is melting. DHS is funded. The federal government did not dive into the abyss. Daylight Savings Time kicks in and most dairy cows will not be confused nor thrown for a loop. The barbecue grill is almost ready.
The month of March came in "like a lion." Who knows what will happen next? As the BBC song lyrics say, "That was the week that was, it's over, let it go …"