May 29, 2012 by David Olive
The crowd gathered on the lawn adjacent to the old Federal Courthouse in Fort Smith, Arkansas, where Judge Isaac C. Parker once presided. It was a beautiful, but warm, Saturday morning, likely akin to ones in the late 1800s when Judge Parker's sentences to convicted outlaws of the "wild west" were carried out on the nearby gallows.
Dignitaries arrived and gave appropriate (and mercifully short) speeches, bands played, children chased each other, lawmen on horses stood watch nearby and women in long, lacy dresses shaded themselves with parasols. It was a morning where a community came together to talk about the historic event about to take place and to honor the rule of law.
But this Saturday morning was different. This last Saturday in May 2012 was set aside to commemorate the life, legacy and remarkable public service of one of the finest US Marshals ever to wear a badge – Deputy US Marshal Bass Reeves. That he was born a slave with almost no legal rights and ultimately became one of the greatest lawmen who ever lived is a story that inspires audiences young and old – and for me, someone who works in the homeland security arena, it was particularly meaningful to hear some of those stories told this past Saturday morning – stories about a time and environment when protecting the "homeland" had a very different common understanding.
There was a lot of local news coverage, and one hopes the national press will pick up the story and give it wide distribution. The wonderful Lynn Wasson and equally wonderful Linda Seubold at Entertainment Fort Smith published a special insert in their current magazine which tells the story of Deputy Reeves and the leadership team that brought his monument to completion.
Here is a snippet of the story Lynn and Linda published in advance of Saturday's dedication:
"The magnificent, bronze statue of the great African-American deputy U.S. Marshal Bass Reeves to be dedicated May 26 in Pendergraft Park honors one of the Western frontier's greatest lawmen, and Fort Smith's historic ties to the U.S. Marshals Service.
"In 1875, Reeves was among the first of 200 deputy U.S. marshals commissioned by federal Judge Isaac C. Parker to bring law and order to the wild and dangerous 75,000-square-mile jurisdiction of the U.S. Federal Court of the Western District of Arkansas and Indian Territory. Many of those deputies were killed in the line of duty and are buried in Fort Smith.
"Reeves, however, seemed indestructible in his fearless performance of his duties. He rode for the legendary 'hanging judge' Parker during the judge's 21-year tenure from 1875 to 1896. After Parker's death in November 1896, Reeves continued working for the U.S. Marshals Service until Oklahoma became a state in 1907. During his 32-year career with the marshals service, Reeves arrested more than 3,000 lawbreakers, outlaws and murderers – including his son, who murdered his own wife.
******
"Taller – at 6-foot-2 – than most men of his time, Reeves was a broad-shouldered, muscular, powerful man who weighed about 180 pounds and sat tall in the saddle. He was an expert horseman and tracker and a quick, dead-aim shot with pistols and rifles. But he preferred using clever disguises and tricks to capture criminals without gunfire, if possible. Territorial news accounts noted that, of the thousands of criminals Reeves arrested while a deputy marshal, he killed 14 men in self-defense.
"Deputy marshals carried written arrest warrants (writs) for those they sought to take into custody. Because Reeves, like most slaves, had not been taught to read or write, he was allowed to memorize the names and charges on his writs and verbally state them when making an arrest. He never arrested the wrong person. He also was allowed to verbally make arrest and service reports to a court clerk who would transcribe them into court records.
******
"No professional or personal hardship or obstacle could deter Bass Reeves from upholding with his very life the legal system he was sworn to enforce – even when that system did not provide equal justice for all races, especially his own."
******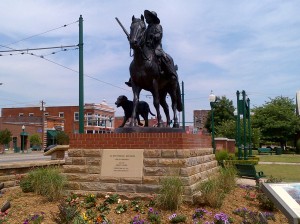 "Reeves was 69 when he retired from the Marshals Service in 1907. He was 72 and working as a Muskogee, Okla., Police Department officer when he died at home of Bright's disease on Jan. 12, 1910. Although hundreds attended his funeral and his death was widely reported at the time, his grave site in or near Muskogee can no longer be found.
"But now, this legendary lawman's memory can be perpetuated by this majestic work of art, which is Arkansas' only historic equestrian statue. It will be seen daily by thousands of motorists who drive past it, tourists who visit it and everyone who attends an event at Pendergraft Park. The statue was designed and installed for Reeves to be riding west, "Into the Territories," from the nearby federal courthouse, just as he did countless times during the 21 years he rode for Judge Parker.
"This statue was dreamed of and brought into existence through the five-year efforts of many people – especially Fort Smith history enthusiast and Sebastian County Circuit Judge Jim Spears and Craig Pair of Fort Smith, who headed the formation of the nonprofit Bass Reeves Legacy Initiative. The more than $300,000 needed to have the bronze statue created by Western sculptor Harold T. Holden and installed was raised from two raffles and hundreds of private donations. The donations ranged from pennies, dimes and nickels collected by schoolchildren to contributions of thousands of dollars from local individuals and businesses.
"…[The] statue will serve as a permanent tribute to the intertwined histories of Fort Smith, the U.S. Marshals Service and deputy U.S. Marshal Bass Reeves, one of the most outstanding, feared and respected law officers in American history."
As the day wore on, and events surrounding the history associated with Deputy Bass Reeves filled the air, it was difficult not to reflect on and give thanks for the men and women who have sworn to uphold the US Constitution and laws of our government. It is no small matter that they have dedicated themselves to protecting our land, our people, our way of life and our freedoms. That the dedication of the Bass Reeves monument occurred over the Memorial Day weekend just added to the symbolism of the event.
Soon Fort Smith will begin building and will dedicate a museum to honor the US Marshals Service. Inside the museum will be a gun and badge used by Bass Reeves – donated by Judge Paul L Brady, a retired federal judge and great nephew of Bass Reeves.
The museum will be a magnificent structure, to be sure, but the stories that will be told inside it will be even more inspiring. The stories of sacrifice, service, dedication to duty and the rule of law will help teach generations to come about the importance of fighting lawlessness and promoting justice wherever it appears and whenever it occurs – and that is as it should be.
As I witnessed again this past Saturday, there is something fulfilling in learning about and honoring the great men who have been the fabric of our country. Public service has been and continues to be a noble calling – one embodied in the men and women of the U.S. Marshals Service whose motto captures the core culture that Bass Reeves lived: "Justice, Integrity, Service."